Fake dump valve - Dummy blow off valve
No matter what you drive, how old or new, diesel or petrol, our Fake electronic dump valve will give you that air dumping turbo sound you have been looking for without having to spend thousands of pounds on a turbo conversion. Until recently you would need a turbocharger to use a actual dump or blow off valve to create the sound of high pressure air been dumped into the atmosphere. Now using a High Output Marine speaker combined with MP3 Technology the EDV can recreate this sound perfectly and just as loud, if not louder than some turbo cars with a lower psi of boost.
Our Dummy blow off valve simulator works in perfect time as a real dump valve. ON a actual dump vale the pressure is released into the atmosphere when a gear change is made, this stops the spooling of a turbo and allows the valve to open. Our dump valve simulator works using a micro switch mounted behind the accelerator pedal. When you put the foot to the floor the system is activated and ready, as soon as you change gear you need to bring your foot off the accelerator, at this point the micro switch is released and the sound is played immediately and loud. There are no buttons to press or timing to keep, it really is that simple, and fitting is quick and easy too requiring no special tools or engine knowledge.
This is not a performance modification and therefore will not affect your insurance. However it may make the person about to race you think twice as you can rev the engine when the car is stationery and still create the dump valve sound.
Our XL Edition is the same as the standard edition but comes with another 80w Highpower speaker which dramatically increases the quality of the dump valve sound, bass and more importantly volume. Its a matter of just how loud do you want to go!
What is an actual dump valve or blow off valve?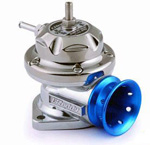 There actually the same thing, in the UK it is referred to as a "Dump Valve" in the USA its is more commonly known as a "Blow Off Valve" or BOV if you're really professional!

A actual mechanical dump valve is used on cars with actual turbo chargers installed in order to create extra boost and therefore power. The Dump valve is mounted in-between the turbo output and the throttle body of the engine. When transitioning from a boosted state to a closed throttle state when you change gear, the turbo continues to pressurize the air, but the closed throttle prevents the compressed air from entering the air intake to the engine. Here the pressure exceeds the preset spring pressure in the dump valve and the excess pressure is bled off to atmosphere creating a loud pressure releasing sound similar to when opening a fizzy bottle of water, only much louder!