Exhaust Tailpipes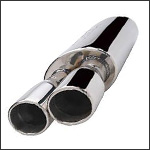 Sound is a pressure wave formed from pulses of alternating high and low air pressure. These pulses make their way through the air at the speed of sound.
In an engine, pulses are created when an exhaust valve opens and a burst of high-pressure gas suddenly enters the exhaust system. The molecules in this gas collide with the lower-pressure molecules in the pipe, causing them to stack up on each other. They in turn stack up on the molecules a little further down the exhaust pipe, leaving an area of low pressure behind. In this way, the sound wave makes its way down the exhaust pipe much faster than the actual gases do.

When these pressure pulses reach your ear, the eardrum vibrates back and forth. Your brain interprets this motion as sound. Two main characteristics of the wave determine how we perceive the sound: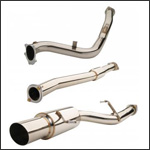 Sound wave frequency
A higher wave frequency simply means that the air pressure fluctuates faster. The faster an engine runs, the higher the pitch we hear from the exhaust. Slower fluctuations sound like a lower pitch.

Air pressure level
The wave's amplitude determines how loud the sound is. Sound waves with greater amplitudes move our eardrums more, and we register this sensation as a higher volume. It turns out that it is possible to add two or more sound waves together and get less sound.
Universal Tailpipes
Exhausts UK and Cobra Sport are leading names in the custom stainless steel exhausts industry, with a proven track record in the UK , for their stainless steel exhausts, Cobra Sport, come with a 30 year anti-corrosion warranty and lifetime guarantee.
Exhausts UK is a second generation family business with over 30 years experience in the exhaust trade and specialist knowledge of custom built stainless steel exhausts. Exhausts UK's expertise enables them to manufacture custom stainless steel exhausts for any car, truck, bike, or anything with an engine.
They can make custom stainless steel exhausts sound how you want and look how you want. The choice of Cobra Sport tail pipe designs are endless, the only limitation is your imagination. Exhausts UK are authorised stockists of both Pipercross and K&N induction kits, in addition to being a Maxpower preferred partner.
We can also undertaken specialist repair work, fabricate dealer-only parts and fit replacement catalytic converters. EXHAUSTS UK also supply performance exhausts, sports exhausts, custom stainless steel exhausts and manufacture custom sports exhausts to cars. With proven power gains and unique styling Cobra Sport custom stainless steel exhausts are a favourite amongst serious performance car enthusiasts in the UK.

Over the years Akamoto has achieved high recognition as one of the UK's leading bespoke or custom build exhaust system manufacturers.

Perhaps you require a custom exhaust system which will create a unique look to your vehicle, whether a full system - a rear silencer or multiple exit exhaust, We can cater to your needs at very competitive prices.

Using the most up to date production technology and supported by CAD CAM design capability and lean manufacturing cells – we are capable of producing Medium and small volume performance exhaust systems to very exacting standards.

This enables the aftermarket customers to achieve a cost effective high quality product that allows them the necessary tools to compete against factory branded performance exhaust systems.