Gift Vouchers
Choose from our wide range of gift vouchers available in a variety of values, our uniquely designed colorful gift vouchers are sent under plain cover but are enclosed within a gold envelope. All the lucky recipient has to do is call us on the telephone number printed on the front, to choose the Supercar Experience package of their choice, and to book a date with us!

Please Note: Our Gift Vouchers can be redeemed up to 10 Months from the date of purchase.
Driving Experience Venues
Elvington Airfield, York & Kenilworth, Warwickshire
The Driving Experiences operate from Elvington Airfield near York, North Yorkshire and a superb purpose built circuit located in the Midlands at Kenilworth, Warwickshire. Kenilworth is only 10 mins from Junction 5 of the M42.

Sandwiches and hot/cold drinks are available at all our events. In addition free tea and coffee will be provided. At the airfield location, its important to note that although there is a large marquee with seating provided, airfields are naturally exposed to inclement weather conditions, so please bring adequate warm clothing.

Drivers please wear soft soled shoes or trainers. Climbing boots are not suitable for driving supercars!
The Driving Experience Team
Our driving experience team was formed over 2 years ago initially as a way of generating an income to help fund their sports car hobby. One of the driving experience directors is a well known competitor in the Porsche challenge cup series and ran a successful Engineering company for many years. Another Director was previously a property investor as well as running a string of 'Subway' restaurants, but is perhaps best known for being a contributing writer over many years to the bestselling car magazine 'Evo'.
Since the super car driving Experience Company took off in mid 2007 the company has won accolades from all quarters for its professionalism, slick operation and exceptionally high standards of customer service. Asda, Woolworths and Argos now use the company to provide their own Supercar Experience days through well known successful agencies such as 'Buy a Gift' and Track days. The Driving Experience team has also featured in articles published in the Yorkshire Post, Solihull Observer and Birmingham Post as well as Business Magazines plus many more.
The 'Junior Ferrari' idea has proved astonishingly popular, with them having to purchase a second Ferrari just to keep up with demand. Interestingly the idea came about after a rival company ran a similar event alongside its adult experiences, in Peugeot 206's. Of course our driving experience company had to go one better, and after equipping one of its Ferrari's with dual controls and a booster seat, the phone never stopped ringing.
The Supercars
Gallardo - Murcielago - LP640 Driving Experience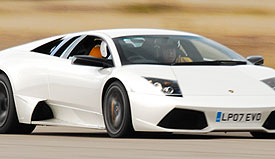 The Lamborghini Murciélago is a high performance sports car produced by Italian automaker Automobili Lamborghini S.p.A. and designed by Luc Donckerwolke. It was introduced in 2001 as the successor to the Diablo. The Murciélago is a two-door, two-seat coupé. That will blow your mind on your driving experience track day. To celebrate the company's 40 years in operation, 50 special edition Murciélagos were built during the autumn of 2003.

The Murciélago sports a 6.2-litre version of the Lamborghini V12 engine, a six-speed manual or six-speed sequential automatic transmission, and four-wheel drive. It also has a rear spoiler that can be raised to an angle of 70 degrees, side mirrors that fold in to improve aerodynamics, and side scoops that automatically open to the needed size to let in just the right amount of air needed to cool its engine. The 2008 car's fuel economy is 8 mpg–U.S. (29.4 L/100 km / 9.6 mpg–imp) city and 13 mpg–U.S. (18.09 L/100 km / 15.6 mpg–imp) freeway, making it the least efficient 2008 car for city and highway driving, according to the EPA.

In 2006 the Murciélago's engine was replaced by a stronger 6.5-liter engine and the car's name was changed to Murciélago LP640. For the 2007 model year Lamborghini did the same with the roadster model, which is now called Murciélago LP640 Roadster. Both versions received a minor facelift.
360 Modena - 360 Challenge Stradale Driving Experience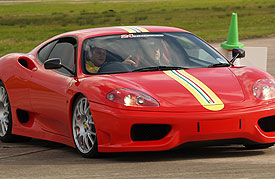 The Ferrari 360 is a mid-engine two-seater sports car produced from late 1999 until 2005. The 360 replaced the Ferrari F355 and was itself replaced by the fairly similar Ferrari F430. For the 360, Ferrari partnered with Alcoa to produce an entirely new all-aluminum space-frame chassis that was 40% stiffer than the 355, yet 28% lighter despite a 10% increase in overall dimensions. Along with the new frame was a new Pininfarina body styling that broke ranks with the last decade's sharp angles and flip-up headlights, replacing them with a rounded appearance that harkened to the 1960s. The new V8 engine, common to all versions, was only slightly larger and more powerful than the 355's at 3.6 litres and 300 kW (400 bhp) of power, but the lighter frame and added stiffness improved performance; the 0 to 100 km/h acceleration performance improved from 4.6 to 4.4 seconds, so just imagine this on your driving experience days and in the Challenge versions it was as low as 4.0 s. An engine replacement resulted in the current V8 road model, the F430 (internally referred to as the evoluzione or evo) which came out in 2004.
Aston Martin DB9 - V8 Vantage Driving Experience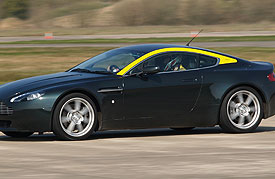 To sports car lovers, the name Aston Martin conjures images of super-fast exotic machinery, unique British engineering, race victories at Le Mans and the personal transportation of one James Bond. Which is easy to see why so many track days customers want to use the Aston Martin as their Driving Experience Super Car That machine-gun equipped car in "Goldfinger," the one with the ejector seat? That would be 007's Aston Martin DB5.
4,282 cc 4.3 liters V 8 front engine with 89 mm bore, 86 mm stroke, 11.3 compression ratio, double overhead cam, variable valve timing/camshaft and four valves per cylinder
Premium unleaded fuel 91
Fuel economy EPA highway (mpg): 22 and EPA city (mpg): 14
Multi-point injection fuel system
20.2 gallon main premium unleaded fuel tank
Power: 283 kW , 380 HP SAE @ 7,300 rpm; 302 ft lb , 409 Nm @ 5,000 rpm
Porsche 911 Turbo Driving Experience

The Porsche 911 is a sports car made by Porsche AG of Stuttgart, Germany. The famous, distinctive, and durable design is notable for being rear engined like the Porsche-designed Volkswagen Beetle it had been based on. It was also air-cooled until the introduction of the all-new Type 996 in 1998. Since its introduction in autumn 1963, it has undergone continuous development even though Porsche neglected the 911 during most of the 1970s and 1980s in favour of front-engine cars like the Porsche 928. Our 911 will blow your mind and make your driving experience day.

Since its inception the 911 has been modified, both by private teams and the factory itself, for racing, rallying and other types of automotive competition. It is often cited as the most successful competition car ever, as the normally aspirated 911 Carrera RSR in the mid 1970s has won major world championship sports car races such as Nürburgring outright even against prototypes.